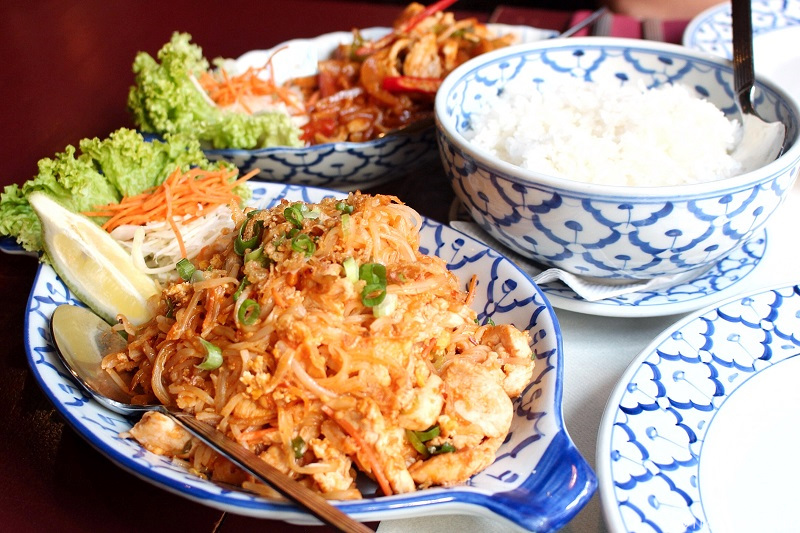 Thais eten is àltijd een goed idee. Tijdens onze jaarlijkse trip naar Blankenberge in 2016 ontdekten we L'Exotique, een thais restaurant vlak bij de zeedijk (en ook dicht bij Aazert Hotel (220 meter) en Hotel Du Commerce (230 meter). We waren er allebei helemaal weg van. Een jaar later gingen we dan ook met plezier terug, en over dat bezoekje lees je nu.
We hebben tijdens onze bezoekjes al gemerkt dat de zaak heel populair is. Je kan dus best héél vroeg gaan of reserveren. Als je om 19:00 nog aankomt, dan kan je een tafel wel vergeten.
We besloten om te gaan voor een voor- en hoofdgerecht. Als voorgerecht gingen we voor de Thai Exotique Special, die je voor één of twee personen kunt nemen.
Dit voorgerecht bestaat uit vijf verschillende Thaise lekkernijen en drie sausjes. Vooral het middelste, met de sesamzaadjes, vond ik leuk. De prijs voor dit gerecht was € 9 per persoon (wat je op de foto ziet kostte dus € 18).
Ik ging voor mijn favoriete Thaise gerecht, Pad Thai Kai. Dat is Pad Thai (gebakken rijstnoodles met groentjes) met kip. Dit jaar zal ik waarschijnlijk gaan voor Pad Thai Phak, de versie zonder vlees maar met extra groentjes. Ik heb er al zin in! Dit gerecht kostte € 14.
Stefan koos voor Pad Pet Kai, een gerecht met kip, chili en Thaise basilicum. Hierbij werd uiteraard ook nog rijst gereserveerd, zoals je in de headerfoto kunt zien. Ook dit gerecht kostte € 14.
Een dessertje ging er niet meer in, dus vroegen we de rekening. Die komt in het leuke potje hieronder. Verder krijg je ook nog een muntsnoepje én een gelukskoekje. I love fortune cookies!
DE REKENING
Exotique Spec 1 persoons: € 9 (2 stuks)
Coca cola: € 2,30
Ice Tea: € 2,50
Phad Thai Kai: € 14
Pad Pet Kai: € 14
INFORMATIE
Bezocht op: 14/06/2017, 's avonds
Online: website |  TripAdvisor
Adres: Vissersstraat 45, 8370 Blankenberge