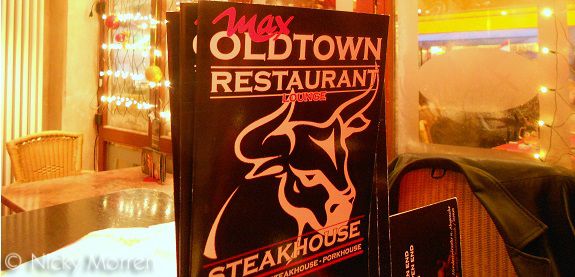 Aah. Eten. I love it. Voorbije zondag ben ik een dagje naar Düsseldorf geweest met Stefan (en nog familieleden van hem) en daar moesten we uiteraard ook eten. Dat deden we bij Max Oldtown Restaurant, oftewel Max Bar.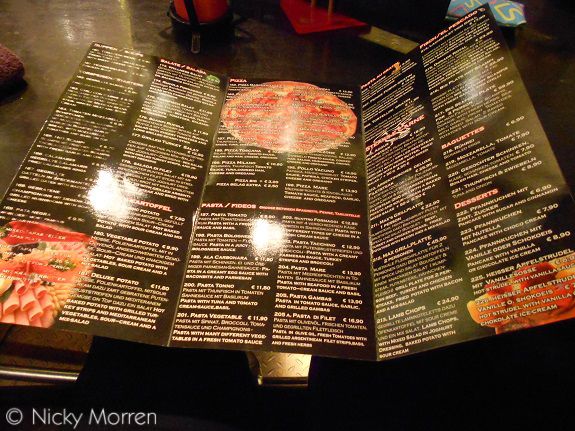 Max Bar is een café, steakhouse, cocktailbar én restaurant. Althans, dat zeggen ze. Ik heb het niet allemaal uitgeprobeerd, gelukkig maar, of mijn medemensen op de bus zouden niet zo happy geweest zijn na een hoop cocktails .. Wij hebben enkel het restaurant uitgeprobeerd, en dat is wel goedgekeurd! Ze hebben een vrij uitgebreide lijst en ook typisch Duitse gerechten. Daar hebben wij niet uit gekozen. Wat dan wel? Kijk verder en krijg honger!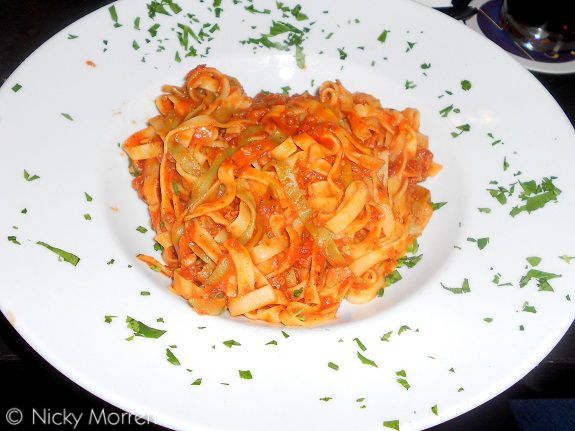 Als drank koos ik voor Evian, zonder bruis. En het was ook echt Evian, in een heel mooi flesje én een fancy glas! Me likey! Mijn dinner was pasta bolognese, en bij pasta kan je kiezen tussen spaghetti, penne of tagliatelle. Ik had vergeten een optie door te geven en vreesde voor spaghetti (ben ik niet zo gek van, te standaard), maar kreeg gelukkig tagliatelle! Het was heerlijk, alleen een beetje weinig naar mijn goesting. Dit kostte €9,80.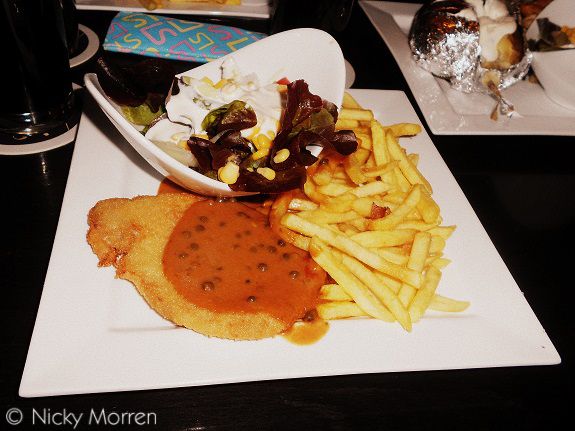 Stefan ging voor iets anders dan pasta, de durver. Hij koos voor Pfefferschnitzel: saftig paniertes schnitzel mit pfeffer sauce, salad und chips. De schnitzel vind ik er lekkerder uitzien dan ik ze gewend ben in België! Dit kostte €12,90.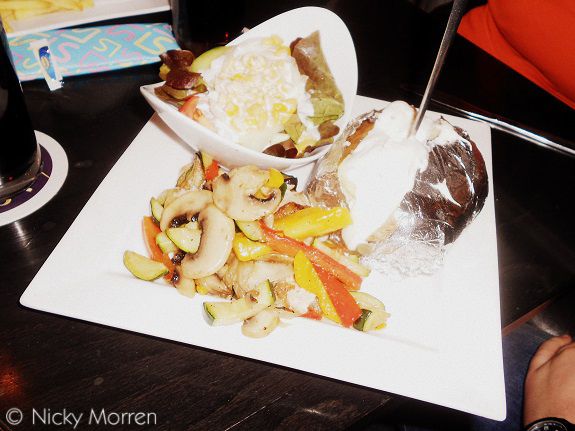 Stefan's moeder koos voor de Deluxe Potato: heisse Folienkartoffel mit sour cream dazu zart gebratene putenbruststreifen und mediteranem gemüse on top dazu ein salat. Een hele mondvol. Vind ik persoonlijk het minst lekker uitzien, maar dat komt grotendeels door mijn haat voor champignons en aardappels. Dit kostte €11;80.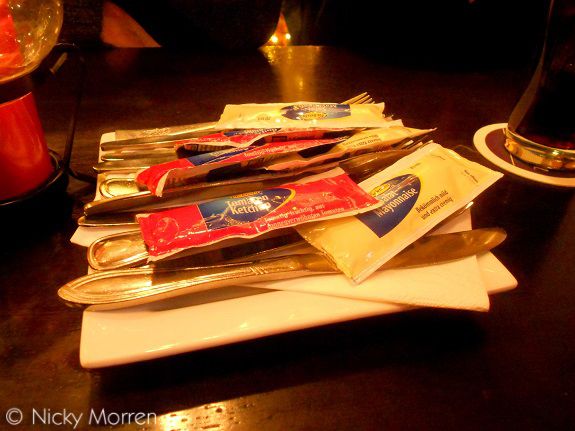 Op een apart bordje kregen we de vorken, messen én ketchup en mayonaise. Leuk!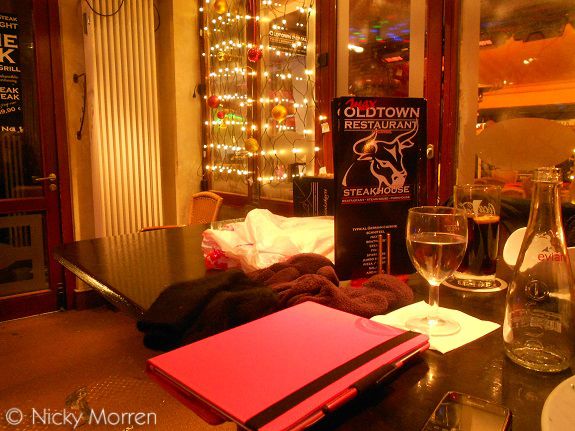 Wij hebben hier dus al bij al lekker gegeten. De toiletten waren niet erg proper, de bediening was wel heel erg vriendelijk en, last but not least, free WIFI! Me happy dus! Hun menukaart vind je overigens hier, de drankenkaart hier. Wel verschillen deze van die die wij hadden in de bar.

Prijs: 10-20 euro
Adres: Bolkerstrasse 4 – 40213 DÜSSELDORF (DUITSLAND)
Website: Max Bar Düsseldorf