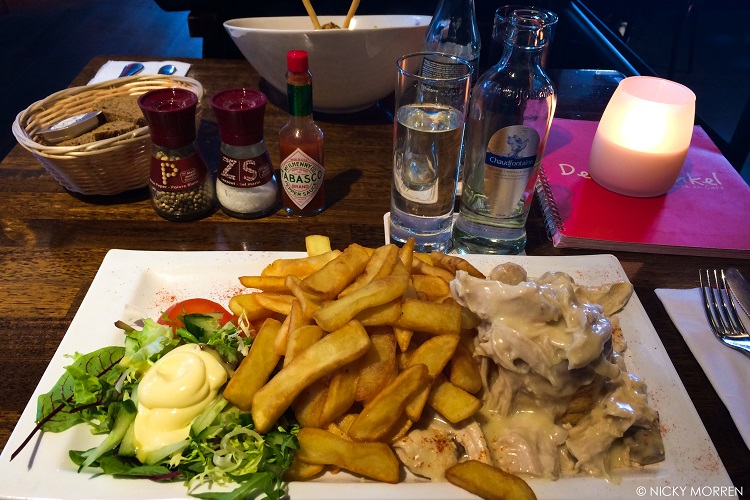 De ligging van brasserie De Karbonkel kan bijna niet beter. Met op wandelafstand de toeristische dienst, de Euroscoop bioscoop, Maasmechelen Village en Terhills Hotel is dit de perfecte plek voor een gezellig hapje tijdens het shoppen, voor de film of na het uitchecken op hotel. Tijdens ons verblijf in Terhills Hotel gingen we hier wat eten voor we een filmpje gingen meepikken.
Als drank bestelden we een plat water en een Cola Zero, allebei aan de prijs van € 2,30; als eten de wokpan kip en koninginnehapje, allebei aan de prijs van € 15.
De wokpan kip leek op het eerste zicht een kleine portie, maar bleek méér dan genoeg te zijn. Rijst, kip, broodstokjes en heel wat groentjes. Heerlijk!
Over het koninginnehapje valt ook niets slechts te zeggen. Salad on the side, lekkere kip bij de vidé, en de perfecte frieten (ik <3 van die dikke, goude, hoekige frieten). De frieten heb ik zelfs niet opgekregen!
Brasserie De Karbonkel is een relatief budgetvriendelijke eetgelegenheid in Eisden. Links vind je hotel Terhills, rechts de bioscoop. Je vindt er basisgerechtjes zoals het koninginnehapje en iets specialere dingen zoals de wokpan kip. Zeker het proberen waard!
DE REKENING
plat water: € 2,30
Coca Cola Zero: € 2,30
wokpan kip: € 15
koninginnehapje: € 15
INFORMATIE
Adres: Zetellaan 72, 3630 Maasmechelen (Eisden) (naast Euroscoop)
Online: Facebook
Google Maps: